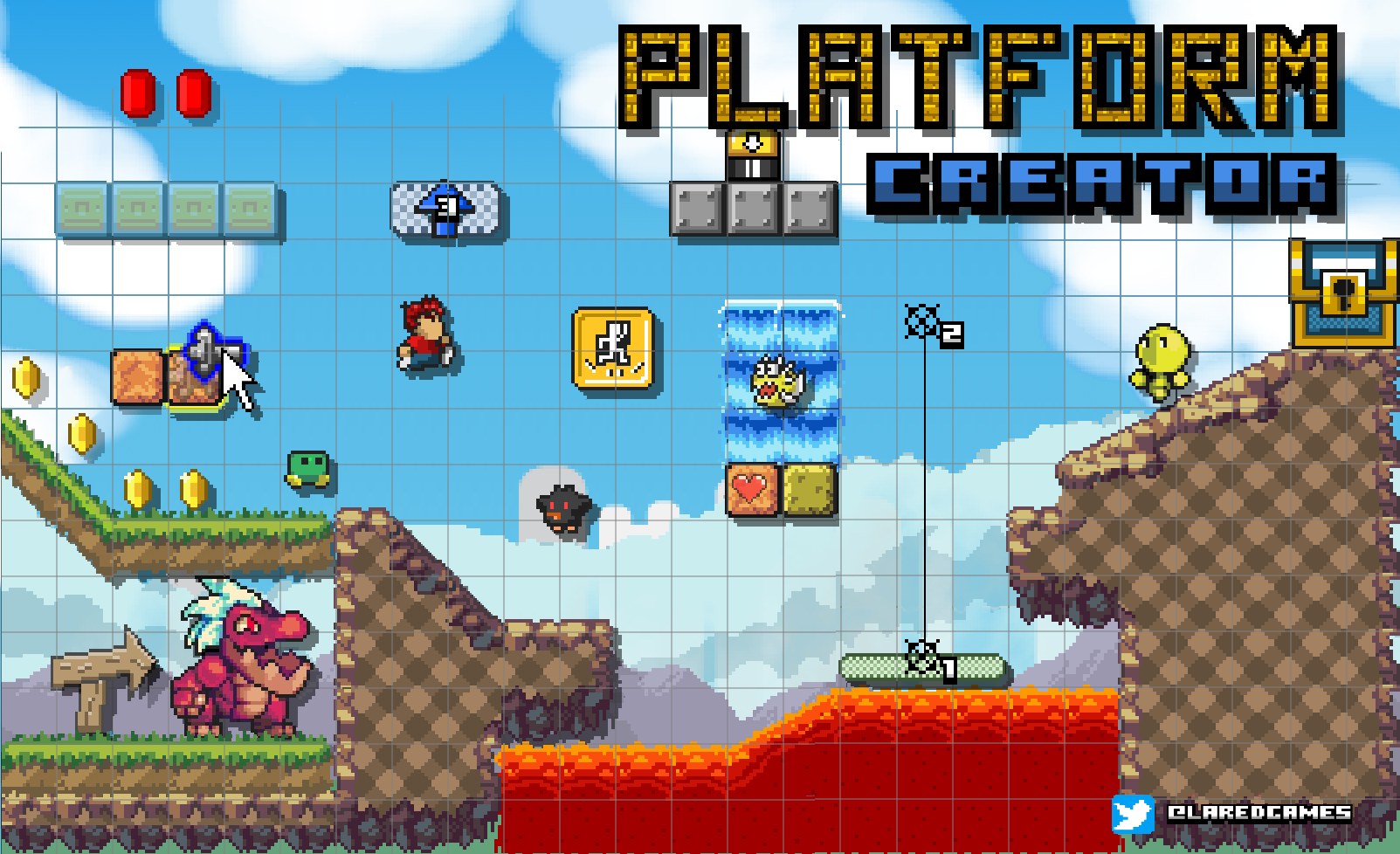 Platform Creator - Free
Update 0.30b
Fixes
* cannons stopped firing
* finish level with multiple Goal Flags
* Skills reset when changing levels
* cloud and fish engine
* movement on the Stairs
* Colors Switch status
* Key collision with open Chests
* time count when passing a level
* Improved AI of some enemies
* Improved character physics
* several minor fixes.
New mechanics
* Some enemies may activate the Color Switches.
* Color Switches can be placed sideways or upside down
* select online levels with the joystick
* Mobile platforms, touch and fragile can change size.
* Arrow can change between 8 different colors.
* Simple Cannon can fire bullets at different speeds
* Circular Saw can change size.
New objects
* Block On
* Block Off
* On/Off switch
* Travel Box
* Side Spring
* Wall Jump Skill
* Inhability
* Check Point
* Creation Box
* Surprise Spike
/////////////////////////////////////////////////

Actualizacion 0.30b
Correcciones
*los cañones dejaban de disparar
*terminar nivel con multiples banderas de meta
*reseteo de habilidades al cambiar de nivel
*motor de nubes y peces
*movimiento en las escaleras
*estado de los Interruptores de colores
*colision de llave con cofres abiertos
*cuenta del tiempo al pasar un nivel
*IA mejorada de algunos enemigos
*mejorada la física del personaje
*varias correcciones menores.
Nuevas mecánicas
*algunos enemigos pueden activan los interruptores de colores.
*los interruptores se pueden colocar de costado o de cabeza
*seleccionar los niveles online con el mando
*Plataformas Móvil, al toque y frágil pueden cambiar de tamaño.
*Flecha puede cambiar entre 8 colores diferentes.
*Cañón Simple puede disparar balas a diferentes velocidades
*sierra circular puede cambiar de tamaño.
Nuevos objetos
*Bloque Encendido
*Bloque Apagado
*Interruptor Encendido/Apagado
*Caja de Viaje
*Resorte Lateral
*Habilidad Salto de Pared
*Inhabilidad
*Punto de control
*Caja Creadora
*Pico Sorpresa
Files
Platform_Creator_v0.30b.exe
5 MB
Sep 14, 2019
Get Platform Creator - Free